"The Beauty of Function" is the focus topic of this edition of PERFORMANCE DAYS, the B2B fair dedicated to functional textiles.
Never before we have been able to produce clothing with extraordinary performance, comfortable and at the same time beautiful to wear. The brands have always had to come to terms with materials and design to find the right compromise, and Vagotex has always represented a winning choice for those who produce quality technical clothing.

Today the challenge moves further: beauty and sustainability are not in conflict. A beautiful, durable and functional garment will be our adventure companion for a long time, making it unnecessary to buy new clothes. But there is much more: sustainability is about raw materials.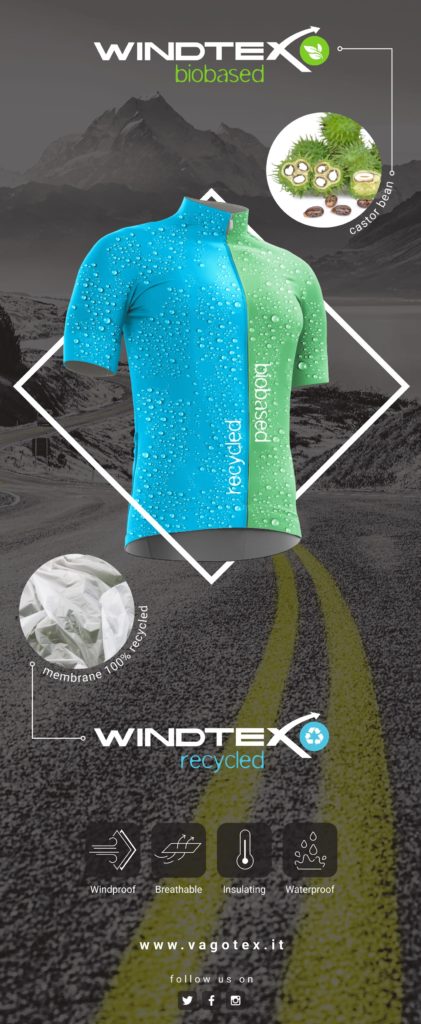 To reduce pollution, the use of non-renewable resources and waste in an industry that still has a strong environmental impact, it is necessary to focus on organic fibers of natural origin, durable and with the least possible use of chemicals in its production.
That's the reason why we decided to create a new range of membranes: WINDTEX BIOBASED e WINDTEX RECYCLED.
WINDTEX BIOBASED is a 100% polyamide membrane made up of 45% organic plastic obtained from the use of castor seeds.
WINDTEX RECYCLED is a 100% polyester membrane, made up of 90% recycled PES discharge film.
Both, like our WINDTEX membrane, are elastic, waterproof and breathable, and both are OEKO-TEX® Standard 100 certified, which guarantees the adoption of ecological production methods and the non-use of chemical substances harmful to health (even those not specifically prohibited by law).
Discover with us BIOBASED e RECYCLED at PERFORMANCE DAYS in Munich on May 8th and 9th.